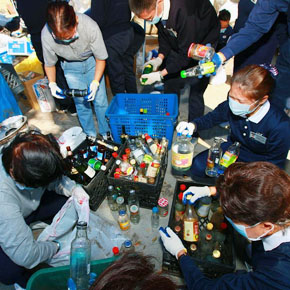 On November 6, 2010, Tzu Chi USA national headquarters celebrated its 21st anniversary with the theme of "Cherish Our Land Through Exercises." Starting at 6am in the morning, 212 participants of the anniversary celebration event prayed together and walked around the campus. After the morning prayer/exercise, a series of presentations were made by Tzu Chi USA's charitable services department, humanistic cultural development department, Medical Foundation and Education Foundation.
Harper, a Tzu Chi volunteer in San Diego, shared with everyone his life experience, especially on how his life was transformed after he started doing recycling work with Tzu Chi. Anny Huang, a volunteer of Tzu Chi and also an employee of California state government, who specializes in writing and implementing climate regulations, presented a class on carbon footprints and taught everyone how to reduce carbon footprints in our daily life. Besides the presentations, the participants had the chance to sort and organize recyclables at the headquarters' recycling station.
Partners with San Dimas City to clean Walnut Creek

On the same day, Tzu Chi partnered up with San Dimas city's Parks and Recreation Department to clean Walnut Creek at 9am in the morning. Over 60 Tzu Chi volunteers worked with community residents to clean the creek. A San Dimas resident even brought her llama to help with creek cleaning. Tzu Chi plans to sponsor additional cleaning events with the San Dimas city government as part of its efforts to protect our environment.
Reported by: Tzu Chi USA
Translated by: Grace Chen