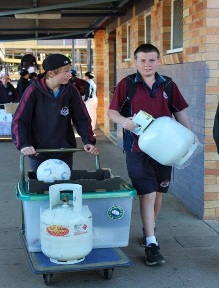 Early in the morning of Friday, 14thAugust, 2012, volunteer workers from Tzu Chi Foundation Gold Coast arrived at Brassall High School by coach.
As they were unloading heavy cartons of ingredients and utensils for cooking, and teaching aids for The Environmental Protection, the students were also arriving at the same time. These teenagers were not only beaming with smiles and greeting the volunteers good morning, but also helping them to take the cartons to their Cooking Classroom on the 2ndfloor. Recalling the scenario in 2011 when Tzu Chi volunteer workers paid the first visit to the school, there was garbage everywhere and the students were so indifferent to the pleasant smiles of the volunteers and their laborious task of cleaning up the school. Now, after two years of regular cleaning up, educating environmental protection and vegetarian cooking, not only the school had become clean and tidy, students are also helping without hesitation. It is a joy to see the effect of love and affection shining throughout the school.
Today students were taught cooking vegetarian mince noodles and siu-mai. Both teachers and students found them very tasty and simple to cook.The demonstrators purposely pointed out that the vegetarian mince could be used as fillings for sandwiches, lasagna or pies, from Chinese style to western style. The students were very eager to practise with their own hands to share the fun.
Inside the Environmental Protection Classroom, Jenny Wan, a Tzu Chi Youth, based on information from video and statistics, shared with the students the reason why there was such an urgent need to propagate environmental protection and vegetarianism, and the concept of 'eating until you feel 80% full, leaving the remaining 20% to help other people'.
As the students were enjoying their cooked food, student Tegan donated some of her pocket money to the bamboo piggy bank. She bought shoes and socks made by DI AI TECH from recycled material for her little brother. When asked to share her thoughts, she was a bit shy to say that it was incredible yet intelligent that a pair of children's socks could be made from just two plastic bottles. Many students, one after another, also came forward to donate their pocket money to the piggy bank. This proved to us that good deeds will pass on endlessly.
Student Dolores had attended the Tzu Chi environmental protection and vegetarian cooking class last year. She wanted to know how Tzu Chi make use of the donation collected. Our CEO Julia Wu explained very explicitly to her that donation from the locals would be spent in helping the local community. Julia mentioned how Ipswich Tzu Chi helped the flood victims,bought gymnastic equipment for Brassall School and recently offered food aid to low income families. Dolores was much touched and put her feelings into action straight away. She asked for a piggy bank and went around asking for donation. When she came back within 15 minutes, she already had the piggy bank filled to the rim together with a handful of coins that could not be put into it. She very frankly told the volunteer workers she never knew how to do good deeds until now. She applied to be a Tzu Chi volunteer soon after to help in the December Food Aid. She is, indeed, a marvelous young lady.
Vice Principal Michelle also shared her thoughts.After she realized Tzu Chi's commitment to the Primary and High Schools, she brought home a bamboo piggy bank for the family including the kids to accrue for good deeds. Today, she returned it with the donation in exchange for a new one.
Student Sally-Anne saw the poster on aphorism outside the Cooking Classroom last year and she was able to read the Chinese which she had learned. Since then she had become a vegan. She shares us with her opinion on how the vegetarian food cooked by Tzu Chi was better and more palatable than those cooked by the few vegetarian restaurants available in the public.
Today, seven students gave their contact numbers to Tzu Chi wishing to participate in the forthcoming activities. One of them, Michael, felt that it was not enough to love the Earth, we should also be helping one another and so he wanted to put it into practice by joining Tzu Chi. Vice Principal Michelle and beverage supervisor Tina also wanted to ask their families to join in. Tanya, teacher in charge of voluntary work, was prepared to encourage teachers and students to be Tzu Chi volunteer workers.
There were 200 participants altogether throughout the day. Tzu Chi volunteer worker, Peter Chan, who was in charge of introducing DI AI TECH recycled products since the first fashion-show at Gold Coast explained that the recycled products were not only good in quality but also could reduce environmental pollution, and he would continue to use them. Another Tzu Chi volunteer Anna Chen also said that it was an honour to have the opportunity to introduce recycled products in Australia.
At the end of the last cooking session, teacher Tina not only thanked the Tzu Chi team, she also invited the whole team to go to the school again on 30thOctober,2012 to enjoy a vegetarian lunch prepared by the students as a gesture of appreciating Tzu Chi for all the hard work they have done for the school. Thus, we can see that goodwill is starting to flourish in Brassall High School.